Benefits for you:
DB series high-end distribution boxes are beautiful, durable, safe and reliable.
Application: Mainly suitable for indoor and outdoor electrical, communications, fire-fighting equipment, steel smelting, petrochemical, electronics, power, railways, construction sites, mines, mining fields, airports, hotels, ships, large factories, coastal factories, unloading dock equipment , Wastewater treatment facilities, environmental pollution facilities, etc.
Effectively protect circuit breakers, air switches and other circuit equipment to prevent rain and moisture from damaging the electricity.
Features:
1. The panel is made of engineering ABS material with high strength and will never change color. The transparent material is PC.
2. Press-type opening and closing of the cover: The face cover of the distribution box adopts a press-type opening and closing method, and the cover can be opened by just pressing, and there is a hinge structure with a self-locking position when uncovered.
3. Distribution box wiring design: the guide rail support plate can be raised to the highest point of activity, and the installation of wires is no longer restricted by the narrow space, making the installation easy. The distribution box switch is equipped with wire grooves and wire pipe openings, which is easy to use. Kind of wire tube, wire slot.
The guide rail on the internal base can horizontally fix the circuit breaker or other electrical components.

Higher intensity, and more durable.

Open cover left and right.

Color can be changed as your requirement.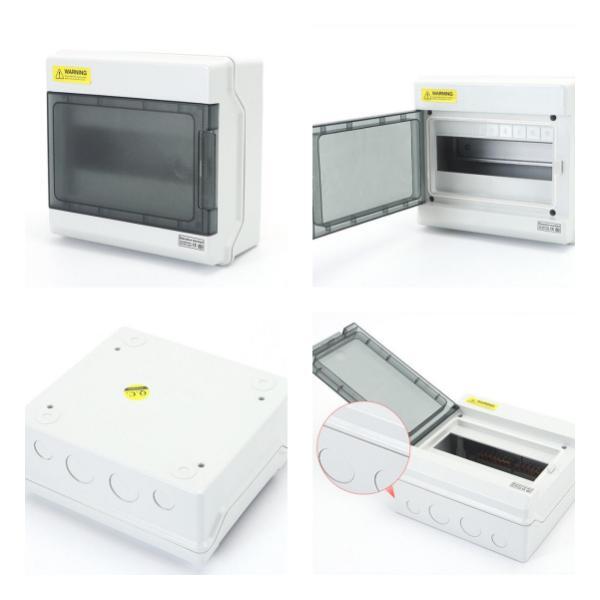 Technical parameters
Short Introduction:
Plastic distribution box,color white,surface-mounted boxes.

Details:
1)Outdoor waterproof distribution box, waterproof, sunscreen, dustproof.

2)The inside of the box is equipped with guide rails and grounding terminals.

3)There are reserved holes on the side of the box for easy cable entry and exit.

4)The transparent cover can see the components inside the enclosure, whether it is safe.

5)There is a waterproof sealing ring in the box, so that the water has nowhere to drill.

6)Wide range of applications. Housing, factories, workshops, airports, cruise ships.

Product Description
Color:White
Body Material:PC Flame Retardant Material
Frosted transparent lid with side opening
Waterproof Sealing Ring
Box Protection Level (IP):IP65
Packaging Details
Standard Export Packing
Port
Ningbo/Shanghai China
Model
Dimensions(mm)
W×L×D
Qty of Modules
Weight
(PCS/Kg)
Qty
(PCS/CTN)
MD-DB-1504
99×200×101
4 Ways
0.425
30
MD-DB-1506
165×200×100
6 Ways
0.551
20
MD-DB-1509
219×200×100
9 Ways
0.685
20
MD-DB-1512
273×230×110
12 Ways
0.933
20
MD-DB-1518
381×230×110
18 Ways
1.251
10
MD-DB-1524
273×380×110
24 Ways
1.7
10
MD-DB-1536
381×380×110
36 Ways
2.5
10