125W×175Hx90D mm Transparent Cover
Benefits for you:
Waterproof Electrical Boxes(Hinge Type)
1. Material :ABS and PC alloy materials.
2. Bosses on internal base allow horizontal fixing of electrical components or connection of terminals ,etc into threaded brass.
3. Higher intensity, and more durable.
4. Better waterproof and Anti-corrosion performance,protect your instruments even under adverse environment.
5. Certain modification can be done according to your requirements. Such as drilling ,painting ,punching,silk-screen,printing and etc.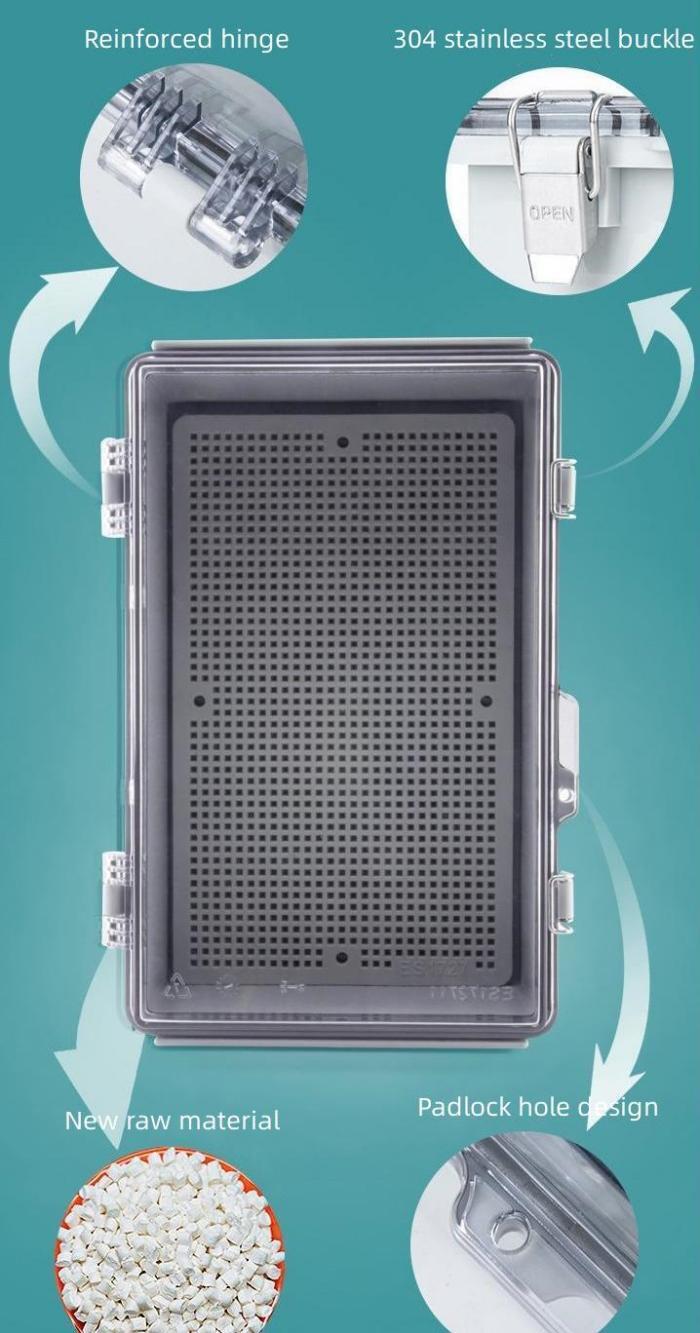 Technical parameters
Short introduction:
Material:ABS and PC alloy materials., light gray,
Lock type: SUS Buckle, surface mounted enclosure.
Flame retardant grade:V-0,According to UL 94
Cover fixing:SUS latch, Plastic hinge
The fastening device is screwed into the bottom of the enclosures
Insulation type:Full Insulation
Enclosure protection level (IP):IP66
Body protection level (IK):IK08
Packaging Details
Standard export packing
Port
Ningbo/Shanghai China
Dimensions(mm)
W×L×H
Dimensions(Inch)
W×L×H
Solid Cover
Transparent Cover
100×150x90
3.94"×5.91"x3.54"
101509-B
101509-A
125×175x90
4.92"×6.89"x3.54"
121709-B
121709-A
150×150x90
5.91"×5.91"x3.54"
151509-B
151509-A
160×210x100
6.3×8.28"x3.94"
162110-B
162110-A
175×275x110
6.89"×10.83"x4.33"
172711-B
172711-A
200×300x130
7.87"×11.81"x5.12"
203013-B
203013-A
250×350x150
9.84"×13.78"x5.91"
253515-B
253515-A
330×430×180
13"×16.93"x7.09"
334318-B
334318-A
430×530x200
16.93"×20.87"x7.87"
435320-B
435320-A
430×630×230
16.93"×24.8"x9.06"
436323-B
436323-A
530×730×250
20.87"×28.74"x9.84"
537325-B
537325-A
630×830×280
24.8"×32.68"x11.02"
638328-B
638328-A
Inner door and mounting plate are optional