DC 1000V 1500V METAL SERIES COMBINER BOX FOR SOLAR SYSTEM APPLICATION
Benefits for you:
SPECIFICATION
---
1. High reliability
PV-specific fuses.
PV-specific surge protectors.
PV-specific DC breaker or rotary isolation switch.
Technical Specifications for Photovoltaic Confluence Equipment" CGC/GF 037:2014.
2. Strong adaptability
IP65 protection, waterproof, dustproof and UV resistant.
Strict high and low temperature test,suitable for a wide area.
The installation is simple, the system wiring is simplified, and the wiring is convenient.
The box is made of metal materials such as cold rolled steel plate.
3. Flexible configuration
Applicable to monocrystalline silicon,polycrystalline silicon,thin film pv moudles, can modify the current level of PV fuses,circuit breaker,rotary isolating switches.
4. Anti-Theft Lock Buckle
5. Water proof strip
6. Built-in earthing wire
7. Waterproof Terminal
8. Positive and negative poles into the wire
9. Mounting bracket
Technical parameters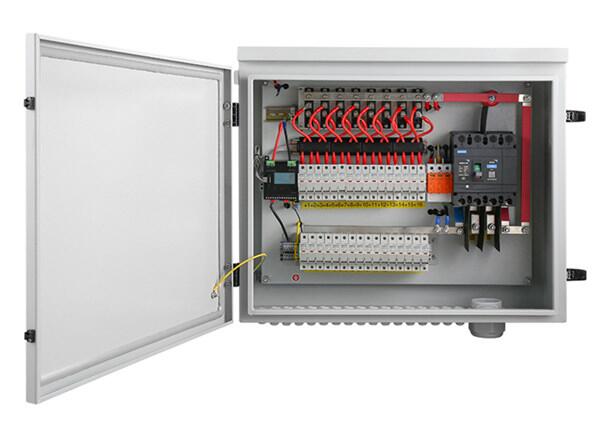 Product Name
DC combiner box

Model Code

MDB-PV

Rated Voltage

1500V

Input

16,20,24 strings
Output
1 string

Temperature range

-25

℃

~+60

℃

Enclosure
IP Protection Class
IP65

Materials

Cold-rolled steel


Spec

UV resistance and Flame retardant
DC switch

Rated Voltage

1500V
Rated Current
Optional
DC SPD

Max Operating Voltage

1500V

Max Discharge Current

40KA

Nominal discharge current

20KA
DC Fuse

Rated Voltage

1500V
Fuse
32A 10×85MM

LED indicator

Available